April 7, 2005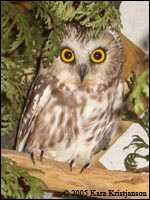 Light Pollution Risks Ontario's Bird Populations
FLAP, the Fatal Light Awareness Program, is working with Toronto councillors to enact a notice of motion regarding light pollution in Toronto. Each year, thousands of birds are killed and many more are severely injured as they migrate through Ontario's cities. FLAP invited The Owl Foundation and Flapjack, a female Northern Saw-whet Owl, to join them in this crusade. Below is the press release regarding Flapjack provided in FLAP's press kit:
April 7, 2005
Fatal Light Awareness Program

The Northern Saw-whet Owl (Aegolius acadicus) is a small nocturnal owl of North America. This owl breeds in the Southern Boreal forest of Canada's north. Due to its small size (70-100g), the Saw-whet cannot break through the crusty ice of Canadian winters, thus finding it difficult to hunt rodents. Like many small birds that cannot sustain themselves in Canada through the winter, Northern Saw-whet Owls migrate south to the mid United States. Migratory birds utilize natural landmarks such as rivers, lakes, mountains and valleys as navigational markers. Nocturnal birds use the stars to assist them.
Unfortunately, cities such as Toronto can compromise such movements. Many night flying migrants are drawn to bright city lights. Reflections off windows create confusion and the birds fly into them.
Window collision injuries usually involve head trauma. Often after hitting a window, these birds fall several hundred feet to the pavement below, resulting in further injuries.

The owl brought today is a female Northern Saw-whet Owl. Her name is Flapjack in honour of the important work that FLAP (Fatal Light Awareness Program) does in rescuing birds.
Flapjack is a casualty of light pollution. She collided with a window in Toronto during fall migration. Luckily, the owl was rescued and brought to the Toronto Wildlife Centre. The owl was stabilized there and transferred to The Owl Foundation for long-term care and release assessment. It is important to remember that rehabilitation involves a network of people.
Flapjack damaged both her left eye and left elbow in the collision. For an owl to be deemed releasable, it must pass several tests. Flapjack will begin assessment within the next month. She will be placed into one of The Owl Foundation's specially designed release training units and provided with live brown mice where it can be determined how well she manoeuvres, sees and hears while hunting. Hearing is extremely important for owls to be able to pinpoint their prey under natural cover. For a Saw-whet Owl, strong flight is just as important because of the long trek it must make each spring and fall. For this reason, we do not expect Flapjack to succeed. At the moment, Flapjack is housed with three other Saw-whets in a 16' x 16' x 15' (256 sq. ft.) outdoor unit. As they are all wild birds, they are not handled once medical treatment is completed. Flapjack is provided with a defrosted mouse every evening and has a constant source of fresh water.
The Owl Foundation is a non-profit behavioural research foundation that operates a centre for both the rehabilitation to release of Canadian owl species, and more significantly the behavioural observation of permanently damaged wild owls in a breeding environment. In this regard The Owl Foundation is both unique and extremely valuable as it is the only centre of its kind in North America.