April 7, 2005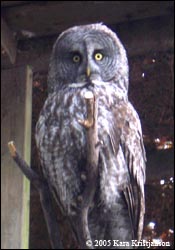 The Great Grey Owl Invasion

THE OWL FOUNDATION in Vineland Ontario has been overwhelmed by the number of Great Gray Owls it has admitted this year due to the very heavy incursion of Great Gray Owls this winter. Dr. Katherine (Kay) McKeever, founder and president of The Owl Foundation feels the numbers of Great Gray Owls road killed as a result of this extreme southerly flow could number in the hundreds, possibly thousands. The Owl Foundation needs your help.
For birders in southern Ontario, the opportunity to see a wild Great Gray Owl is a cherished event.
The Great Gray Owls that aren't so lucky need your help. The Owl Foundation has received over 40 Great Gray Owls this winter, a staggering increase over the usually sporadic Great Gray admission numbers. The birds arrive in varying medical conditions. Some require immediate surgery, some are so badly injured they are humanely euthanized. Others just need a safe place to recover from their injuries while being assessed for their potential early or ultimate release.
The Owl Foundation relies almost exclusively on private funding.